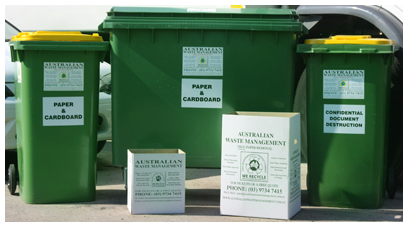 Free Paper and Cardboard Recycling Collection, Melbourne
Australian Waste Management are one of the very few remaining companies that still offers FREE* Paper and Cardboard Recycling Collections to select customers.
We understand that costs play an important factor, BUT we also understand the importance of SAVING our Environment.
Always use a REPUTABLE and established Recycling Company to ensure all of your Paper and Cardboard is RECYCLED and doesn't go to landfill.
Do you want to receive the best customer experience possible, including:
Proprietary system which employs GPS to track collection drivers and capture images which allow us to monitor collections and ensure that they are completed with precision.
Customised Collection Frequencies*
Customised Collection Locations*
All types of paper and cardboard can be collected for recycling, including items such as newspapers, magazines, window faced envelopes, cardboard boxes, baled cardboard, etc.
As an added bonus, you do not have to remove items like paperclips, staples, bull clips, plastic pockets, photographs, etc. as our sorting and recycling machines can handle these for you.
Fill out the below inquiry form to see if you qualify for FREE Paper and Cardboard Recycling Collections.
One of our Customer Service Representatives will contact you as soon as possible!
Free Paper and Cardboard Recycling Drop off, Melbourne
Illegal dumping outside our gate or near our driveway will result in CCTV footage being provided to the police and council for immediate prosecution.
Australian Waste Management advocates for recycling! Please drop off any unwanted paper and cardboard for recycling.
Unfortunately due to major increases in costs including labour, fuel, mechanical repairs, registration, etc, and the massive decrease in the need for paper and cardboard for recycling and remanufacturing, we have had to introduce a minimal fee for paper and cardboard drop off. The fee is $25 per 660ltr bin full of paper and cardboard. Please call ahead with an estimate of the amount of paper and cardboard you would like to drop off, and one of our friendly customer care representatives will assist in taking your payment by credit card over the phone prior to you arriving at the yard. Once you arrive at the yard, one of our friendly yardsmen will assist you with identifying where to unload your paper and cardboard. The fee is $25 minimum, and if it is just slightly more than a 660ltr bin full, we won't charge any extra, it's only if it is a full second bin that we would consider an additional charge, so please try to estimate fairly accurately to avoid the extra work involved.
For comparison, if you were to take your paper and cardboard to landfill, not only will it be buried in the ground instead of being recycled, but they will charge you $220 per tonne minimum, which is extraordinarily more than our minimal charge. We are also much more handily located than any of the nearby tips, and you won't risk flat tyres due to having to drive over garbage to tip the items. Help us save the environment and we will help you save your hard earned money.