Document Destruction Bags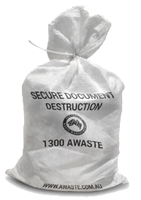 Order Secure Document Destruction Bags
To cater for small or infrequent quantities, our Secure and Confidential Document Destruction service offerings begin with Document Destruction Bags which come with individually numbered and tracked tamper proof security tags.
They hold approx 140 litres of documents when full, but fold flat and can be stored in a stationary cupboard when empty. These bags are good for once off small Confidential Document collections or to have on hand in the cupboard in case a quick and easy clean up is required, such as when a staff member leaves the company. This is a cheap, quick and easy alternative to having a bin on site but still gives you the freedom of having somewhere secure to place the documents until we attend to remove them. Document Destruction Bags are also handy if space is at a premium and you don't have room to fit a bin in your office.
Priced from $69, they are our most affordable option.
When the bag is filled, you can contact us for a pickup.